Why Coconut Oil is amazing...
Here's the secret to this amazing fruit! There are namely 3 healthy medium chain fatty acids (MCFAs) - Lauric, Capric and Caprylic acids. These are good fats that help keep skin hydrated and supple, & delay sagging of skin! It's also full of anti-oxidant properties which protect against dryness and keep your skin supple youthful looking!
Coconut oil is most effective in moisturizing the scalp - Lauric and Capric acids allow the oil to easily penetrate the hair shaft and reach the hair cuticle to moisturize from the inside. It is full of restorative proteins and vitamin E which helps add body and shine to your hair. So it tames the flyaways and get rid of split ends too!
Coconut Oil is a great everyday Multi-Tasker for your beauty & health needs While it heals, it protects! Koqo's pure oils naturally protects us from the weather, environment and vast pollution we live in today. Let's check out how we can use koqo's purest All-In-One & Infused coconut oil in your daily routine.
Use natural ingredients to exfoliate once a week for brighter & glowing skin.
All Natural. No Preservatives. No Parabens.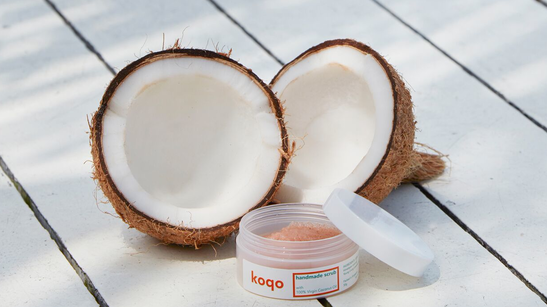 Koqo Handmade Himalayan Face Scrub
Made with k o q o virgin coconut oil and organic grounded Himalayan rock salt and pure Lavender essential oil, our premium face scrub exfoliates away dead skin cells and polishes skin leaving it glowing and smooth with a thin film of moisturizing coconut oil. Take half a teaspoon and spread on fingertips, massage onto cheeks, chin, forehead and over the nose in circular motion. Rinse off with water & pat dry. Avoid the eye area.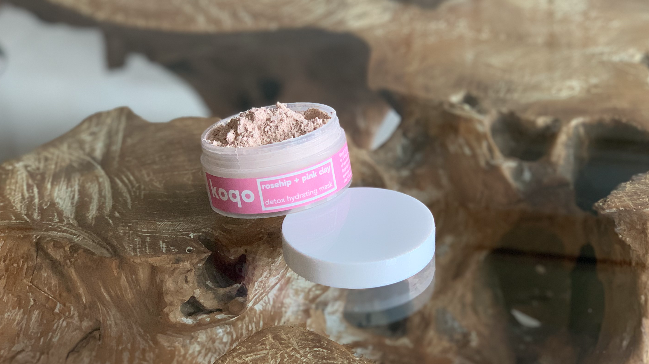 koqo Rosehip & Pink Clay Mask
This organic rosehip and pink clay mask that is suitable even for sensitive skin, cleanses and gently exfoliates skin to reveal a smooth and bright complexion. High in anti-oxidants and vitamins, this mask helps to fade dark spots, acne scars and even out your skin tone over time. Its deep cleansing action also helps to reduce the appearance of pores for a baby smooth skin.
With koqo's Award Winner Of Best Hair Oil in 2019 & 2018 Coconut Your way to Soft, Glowing Skin & Smooth, Shiny Hair
Infused with 100% Pure, Therapeutic Grade Essential Oils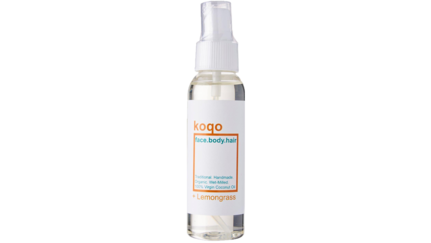 +Lemongrass
1. Suitable for Oily scalp. Heals itchy scalp. 2. Strengthens hair follicles, reduces hair loss 3. Antiseptic properties help sterilise pores 2. Evens out skin tone, strengthens tissues 5. Massage oil to soothe tired muscles 6. Prevents stretch marks and cellulites 7. Natural deodorant/ Add to foot soak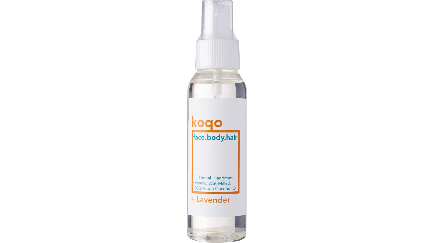 + Lavender
1. Suitable for all hair types especially - Dry Sensitive scalp & Dry hair, preventing split ends (2019/2018 Hair Award-Winner of Best Hair Oil). Helps in hair growth. 2. Helps alleviate eczema, itchy or flaky skin 3. Anti-Aging moisturiser & After-Sun care 4. Helps to heals burns & cuts 5. Calming effect - Reduces anxiety & stress
+ Peppermint Rosemary
1. Promoting hair growth & healing of scalp 2. Prevent premature graying 3. Healthy Circulation for hair scalp 4. Helps to remove dandruff & lice 5. Nourishing body moisturiser 6. Heals fungal infection 7. Mood Booster - Uplifting & energizing
How much oil do I apply? Remember, a little goes a long way.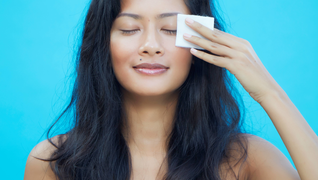 For Eyes
20ml EYE 1. Use this sheer coconut oil around the delicate eye area and forehead to diminish fine lines and reduce wrinkles. 2. Apply 1 drop on ring finger, then dab gently around delicate eye area for 2-3 minutes until completely absorbed. 3. This sheer oil can be applied on face if you prefer a lighter consistency and absorbs faster. Tip: To add 1-2 drops of Frankinsence essential oil.
For Face
1. Pump 2-3 small drops to palm and using ring finger of the other hand, dot the oil around forehead, under the eyes, cheeks, nose and chin. Massage gently in circular motion onto your face. Pat off any excess oil after 5 minutes of applying. (Optional: you may put a warm towel on your face or steam before applying to open up the pores for the oil to penetrate better into the skin or use it right after a warm shower) 2. Mix a dab of it with other face creams you are using as it is 100% natural & is often found in face creams too. 3. Spray some natural spring water prior to applying one pump of coconut all over your face for easier & better spread of the oil. Massage it all over until it is absorbed. Wait around 2 minutes before applying suncreen and makeup.
For Body
1. Start with one pump or 2-3 sprays onto desired area to be applied and massage-in for 2-3 minutes with your warm palms. This will allow the oil to absorb better into your skin. 2. Gently massage oil onto skin, not forgetting your neck, chest area,elbows and knees. 3. Best to apply after a shower when the body is slightly damp after you pat dry. Tip: Allow the oil to be absorbed before you put on your clothes.
For Hair
1. Start with dry hair and coat with koqo face.body. hair coconut oil from root to tip, making sure you massage at least 5 minutes on your scalp. Next, put your hair up in a bun for 30 minutes or sleep overnite. Then, shampoo twice before using conditioner - a natural way to help your hair grow longer, thicker, and faster. (recommend to use organic shampoo/conditioner) 2. On damp hair, apply 1-2 spray of coconut oil to protect your hair from the sun and prevent split/dry ends. Use your fingers to gently massage the oil onto your hair and ends then brush and style as usual. If used on dry hair, please use sparingly. Tip: Coconut oil makes an excellent base for an all-natural hair coloring. It helps to keep your color more vibrant and from fading too quickly.